How to play?
You are participating in the
inca-award
contest and have to present your brightest ideas to a jury who will decide your fate.
You do that by collecting lightbulbs.

To collect enough ideas you'll have to find your way to that mysterious inca maze by solving the puzzles.

Once you have enough ideas you can present them to the jury, but beware: you have to present them in a way that pleases their eye!.
You can pick your color by collecting these color spheres.

When you got your award, find the exit.

Is the game a bit too small for your taste?
Here's a bigger version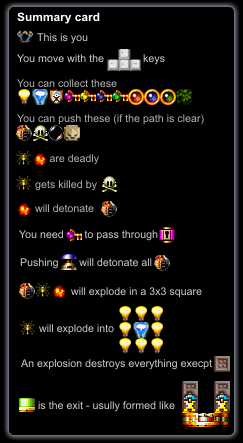 The Bigger Picture
INCA09 - the game, and the open source game engine, was created for the
inca-award
competion by
Steffest
.
Here's the accompanying video presentation
The "bigger picture" is to provide an easy to use and adaptable engine to promote "Game based learning"
Trainers, tutors and teachers can use it to supplement their offerings for those students that need that extra "push" a game based approach can offer.
Check out these 2 small examples that are build with the same engine.


Open Source
This game engine is - and is made with - open source.
It's written in Flash actionscript but you don't need the Flash IDE to compile it.
You'll need these free and open source tools:
The binary assets are compiled with
SWFMill
, the code is written in
Flashdevelop
and compiled with
MTASC
.
You can download the complete package
here
The source code is released under the GNU GPL license

(5 MB)
Feedback
Annelies
said on 4/22/2009 10:50:05 AM
Steffest
said on 4/22/2009 11:45:45 AM